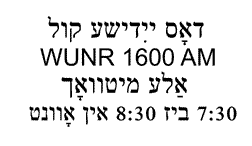 From Mark David:
"The Yiddish Voice": Morris Hollender Remembered This Wednesday's broadcast of "The Yiddish Voice" (WUNR 1600-AM, Boston), February 25. 2014, at 7:30 PM, will be in memory of the late Mr. Morris Hollender, who recently passed away. Hollender was a survivor of death camps in World War II. In his later years he served as Gabbai, Torah reader, and Ba'al Tefillah at Temple Beth Israel in Waltham, MA.
For many years he was a treasured resource for collectors of old songs, poems, and melodies from Jewish life that might otherwise have been forgotten. He was a frequent contributor to the "Yiddish Voice" radio show. The program will feature several recordings of Hollender singing and recounting the past.
The Yiddish Voice (Dos Yidishe Kol), Boston's weekly Yiddish-language radio show, is heard each week on WUNR 1600 AM from 7:30 PM to 8:30 PM and live-streamed on the Internet at www.yiddishvoice.com. For more information, visit www.yiddishvoice.com, email radio@yv.org, or call 617-730-8484. –
 "Dos Yidishe Kol": Moyshe Hollender: In Ondenk Dem mitvokh, dem 25stn februar 2014, 7:30 ovnt, vet di radio-program "Dos Yidishe Kol" (WUNR 1600-AM, Boston) prezentirn a program tsum ondenk fun Moyshe Hollender, velkher iz nit lang tsurik nifter gevorn. Hollender iz geven a lebn-geblibener fun toyt-lagern in der tsveyter velt-milkhome. In zayne letste yorn hot er gedint vi a gabe, toyre-leyener, un bal-tfile bay zayn shul Temple Beth Israel in Waltham, MA. Yorn lang iz er geven an oytser un resurs far zamlers fun alte niskhoes, lider un nigunim, vos on im voltn zey mistome fargesn gevorn. Er iz geven an ofter gast af der radio-program "Dos Yidishe Kol". In program vet men hern etlekhe rekordirungen fun Hollendern zingen un dertseyln. "Dos yidishe kol" iz di vekhntlekhe bostoner yidishe radio-program vos vert transmitirt ale mitvokh 7:30-8:30 ovnt un eyntsaytik durkhn vebzaytl www.yiddishvoice.com . Khapt a kuk afn vebzaytl oder shtelt zikh in farbindung elektronish afn adres radio@yv.org oder telefonish mitn numer
617/730-8484 nokh vayterdiker informatsye vegn der program.