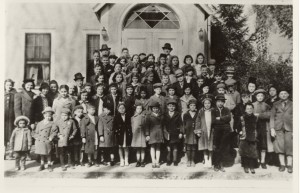 During the late 1800s, a sizable number of Jews made Waltham their home. There was no temple at that time, so they began by conducting services in each others' homes. In the early 1900s, when the group grew too large to meet in comfortably in their homes, the Jewish community bought a house on Harvard Street — in the same location where we are now. They gutted and renovated the building to serve as a traditional Orthodox shul. There was a balcony for the women and children and the men sat down below.
The congregation grew and went through many changes over the next fifty years, and the members of this community again remodeled the building to reflect those changes. Removing the balcony, they located the entire sanctuary on the main floor — allowing men and women to sit together — and they added several classrooms, a kitchen and an activity room in the lower level. In the 1960s, the congregation made further modernizations.
Today, Temple Beth Israel is a traditional, independent, egalitarian synagogue with a vibrant, diverse and close-knit membership under the spiritual leadership of Rabbi David Finkelstein. We welcome everyone through our doors, seeking provide access and inclusion for all who want a connection to meaningful Jewish life and community.